MOST IMPORTANT FACTORS FOR BUYING USED (IMPORTED) PRINTING MACHINERY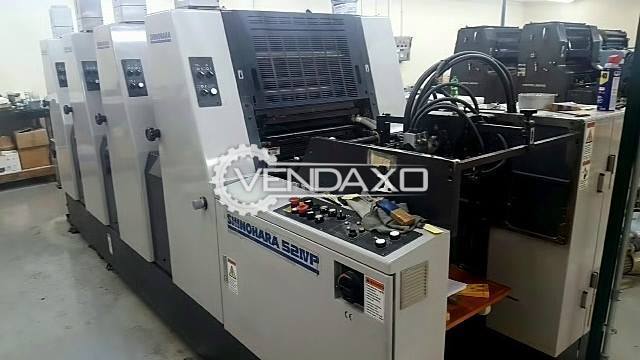 Oct 10, 2017
A printing machinery is any device that is used to apply pressure on an inked surface and transfer ink to a print medium (paper or cloth).


Be it a printing press or an offset printing machine, they serve an important role in the printing industry. However, just as other machineries, these are also very complex and costly. Hence, just as other machinery units, it is equally advantageous to buy a second hand printing machinery unit. Decreasing margins on printing combined with increasing costs and competition makes buying used printing equipment a wise economical choice. Like any new product, the moment it is first bought and used the value decreases significantly. This is why buying even lightly used press equipment can save a large amount of money. However, before buying everyone does a cost-benefit analysis and wants to know what are the important factors to consider before buying pre- owned/ used printing machinery. In India, most of the experienced buyers prefer purchasing used printing equipment from outside of the country.
Why buy used imported machinery instead of a local one?
Several attributes give edge to the imported machineries. Some of the most important ones are listed below:
Availability of cheaper and upgraded machinery
Any business that owns a multi-purpose printing machine has to consider the fact that their printing equipment is after all a machine that gets outdated with time and can breakdown when least expected. Unfortunately, due to
lack of sufficient technology in India
, manufacturers here cannot ensure the best quality and Indian Printing machinery is expensive as well, hence, a majority of the printing businessman prefers the machinery like Heidelberg for quality printing over the Indian manufactured offset printing machines.
Availability of printing machines with better precision, accuracy and sturdiness
The level of engineering technology and production facilities available in the country right now are not up to the mark for the production of offset printing machines. The best quality offset machines are produced in Europe and Japan. Germany produces one of the foremost brand in printing industry, i.e. Heidelberg.

Ready availability of quality machines on order
Due to the internet, many printing plants in the US have closed down and printing on paper has stalled. Heidelberg was the brand and company that was creating/selling machines during the height of printing and now due to this stalling, many idle machines are available for sale. It is obviously profitable that a trusted brand like Heidelberg is available for such cheap rates.



Printing quality
A printing machine is purchased for fulfilling a printing purpose, so quality of the printing should be up to the mark. Although it is ridiculous to expect the same quality of the printing as obtained from a new one, but it should be as close as possible. It is therefore necessary to check the previous printing materials, color impressions, variation of the color, line sets etc. The anxiety of the buyer is considerable reduced as a valuation and inspection can be ensured before the import of the printing unit.

More Reliability
A printing machine is very vital equipment in the industry and needs
regular maintenance
activity to ensure its proper working. Each new printing machine must be put through a period of testing to find their specific strengths and weaknesses and printing is both art and science, its likely people wish to use a known machine that has proved its abilities from a long time. Whereas Indian manufactured printing machines in comparison to those imported, are not that reliable.
Equipment Breakdown
Given the reason that the offset printing machine is complex in its built, there is a very good chance that the machine may break down during the course of its running. In the case that its one or more components break down and depending upon the age of the machine, replacement parts may be very difficult to find. This is especially true of electronic components, which can become in obsolete within no time. If the required parts can't be found, the owner may have to purchase new machinery. This is precisely the reason why these businessmen get nervous when suggested new machinery. Also, Heidelberg has company support systems that are still up and running for any emergencies that may crop up.

These are just few of many reasons that such a large number of buyers import used printing machinery.From 01-Nov-2016 to 30-Nov-2016, India imported Offset-Printing-Machines worth USD 3,526,293.46.

Japan is the largest supplier

of Offset-Printing-Machine accounting for imports worth USD 1,461,348.52 followed by

Germany

and

China

which export Offset-Printing-Machines worth USD 1,305,669.99 and USD 412,640.51 respectively.

Also, while buying any used machinery, it is expected of the buyer to give first preference to already established brands. This will ensure the life of the machine and its performance.




Some of the trusted brands in printing machines are Heidelberg, Komori, Man Roland and KBA etc.

Heidelberger Druckmaschinen -
is a German precision mechanical engineering company with head offices in Heidelberg (Baden-Württemberg). It is a manufacturer of offset printing presses sold globally. The company has a worldwide market share of more than 47% in this area and is the largest global manufacturer of printing presses.
Komori Corporation -
is one of the largest manufacturer of printing presses based in Japan. The company is mainly engaged in the manufacture of web offset presses, security printing presses, sheet-fed offset presses, package printing presses and printing related equipment.

Manroland -
is a German based manufacturer who makes newspaper web offset presses, commercial web offset presses, and sheet fed offset presses for commercial, publications and packaging printing.
A part from these, there are many more trusted brands available in the market. The brand the buyer chooses should depend upon his application of the machine.