4 SIMPLE STEPS TO IMPORT USED INDUSTRIAL EQUIPMENT INTO INDIA.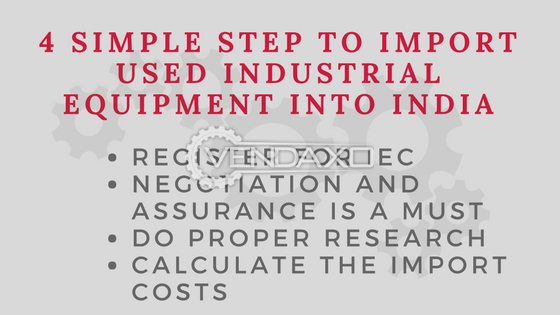 Nov 18, 2017
The procedure for importing used machinery into India is quite simple. The process of importing is not much different for all goods. The basic process involved is


1) Register for IEC
To import used machinery in India, you must register for an IEC number. IMPORTER EXPORTER CODE (IEC) is a ten digit number granted by Directorate General of Foreign Trade under Ministry of Commerce and Industry, to any person/company for carrying out import/export. You can apply for this number online.
Also, you will need IEC Code only if the value of item (Declared value) is above 1 lakh, otherwise the shipping company will do it on your behalf.

2) Negotiation and assurance is a must

Since, it is an out of the country deal, make sure you have correctly negotiated with the supplier. You should be sure of the Used Machinery Specifications and quality before importing the good.

3) Do proper Research
Make sure you have researched enough and ensure that the deal is profitable. Then discuss the payment terms. Make sure the payment procedure is hassle free and secure.

4) Calculate the import costs
Now you need to work out import duty and taxes. In India, custom duties are paid according to its Harmonized System (HS) code. The duty depends upon a lot of things, like type of the machine, the CIF value of the machine etc.
The shipping cost depends upon three things, the mode of shipping, Pricing according to the Inco terms like FOB, EXW, CIF etc., and volume & weight of the equipment.
On October 15, 2015, The Central Board of Excise and Customs issued fresh guidelines on valuation of used capital goods when imported into India. This step was taken after a number of issues were reported from the interpretation of Board's circular no. 4/2008 dated 12th February 2008 by various Ministries, trade bodies and traders.